In Memory
Sam Jeffers VIEW PROFILE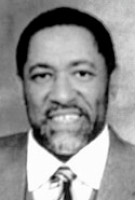 GREENSBORO — Sammy Davis Jeffers (Sam) passed away on May 28, 2013 at his home in Greensboro.
Born March 8, 1960 in Greensboro, he graduated from Western Guilford High School in 1978. He retired from Guilford County Schools in 2008 after 30 years of service as a licensed electrician.
He is survived by his daughter, Kristen Jeffers of Greensboro, five brothers, three sisters, two uncles, one aunt, and a host of nieces, nephews, cousins, and friends. Services will be held at Ebenezer Baptist Church in Greensboro on Tuesday, June 4, 2013 with visitation from 11:30 a.m. until 12:00 p.m. and the service at 12:00 p.m.
Funeral services provided by Serenity Funeral Home & Cremations.
Please offer condolences at www.news-record.com/obituaries/
Published in News Record on June 2, 2013
Click here to see Sam's last Profile entry.