In Memory
Laura Dickerson (Vaughn)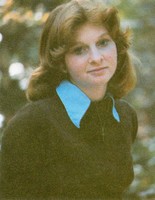 (August 2, 1960 - September 1, 1999)
Stokesdale - Laura Dickerson Vaughn, 39, of 8117 McCrory Road, died of cancer Wednesday, Sept. 1, 1999, at Moses Cone Hospital.

A memorial service will be held at 2pm Saturday, Sept. 4, 1999, at New Garden Friends Meeting. Interment wil be private in New Garden Cemetery.

Laura was born Aug. 2, 1960, in Guilford County, the daughter of Richard H. and Denzel H. Dickerson of Greensboro. She was a 1978 graduate of Western Guilford High School. She attended both East Carolina University and Guilford College. She worked with Volvo Trucks, N.A., and was a member of the Stokesdale Fire Auxiliary.

Surviving in addition to her parents, are daughter, Laurie Marie Vaughn; son, Richard Alan Vaughn; sister, Anna Lisa Burkholder of Stokesdale; brother, Dale Harvey Dickerson and his wife, Anjie Dickerson of Wentworth; nieces, Carolyn Burkholder and Haley Dickerson; and nephew, Brian Burkholder.

In lieu of flowers, memorial gifts may be made to Laura Vaughn's Children's Educational Fund, c/o CCB Airpark, P.O. Box 35363, Greensboro, NC 27425.

Forbis & Dick Guilford Chapel is serving the family or Mrs. Vaughn.