In Memory
Ed Carroll (Assistant Principal)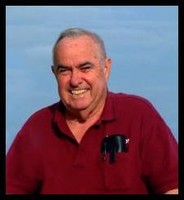 Edwin Bailey Carroll, age 76 went to be with the Lord on June 12th, 2013. A Celebration of life service will be held at George Brother's Funeral Home Saturday June 15th at 6:00 pm with Elders Robert Persaud and Barney Yaskiewicz officiating.

Ed was born in 1937 in Durham County NC to the late Hardy Carroll and Helen Bailey Carroll. The family moved to the Guilford College area when Ed was 5 years old. He attended Guilford High School and after graduating in 1955 he attended Guilford College where he graduated with a degree in History in 1959. He later did post graduate studies at UNC-CH, UNCG & UNC-A&T. He returned to Guilford High School and Western Guilford High School as a teacher and administrator for 27 years. He then served as director of transportation for Guilford County Schools for 8 years overseeing the transition from student to adult school bus drivers, computerized routing and the merger of Greensboro, High Point and Guilford County Schools. He served on the Guilford County Social Services board and for 25 years as commissioner of the Guilford College Fire Department.

Ed was a man of faith throughout his life and for the past 34 years served as an elder in the Global Missions Church at High Point. Until his passing Ed served as chairman of the Global Missions USA foundation which serves the ministry of the church throughout the world.

He leaves behind his wife of 55 years Elizabeth Sharpe Carroll, daughter Amy Carroll Loggains (Artie), son Alan Carroll (Florentina) six grandchildren Beth Lake (Kellen), Joanie Holt (Justin) Ben Loggains (Rhonda) Ryan Kelly, Olivia Carroll, Reagan Carroll and 4 great grandchildren: Halle Loggains, Ezra Loggains, Audrey Holt and Puddle (little Lake baby expected this August) Sister Jane Carroll White (Kevin), Sister in law Mary Carroll and nieces and nephews too numerous to name but all of whom he loved and was loved by.

The family will receive friends immediately following the service at George Brother's Funeral Home (803 Greenhaven Drive Greensboro, NC ) and at other times at the residence.

Memorial contributions may be made to

Global Missions Foundation
4427 Hunter Oaks Ct.
High Point, NC 27265

or to

Hospice & Palliative Care of Greensboro
2500 Summit Avenue
Greensboro, NC 27405